Photos - Sydney North (continued)
Oxford Falls
Spicer Road North, Oxford Falls, doesn't have your average suburban row of houses.
Oxford Falls
Oxford Falls Road, Oxford Falls, in flood during a drought.
Delightful Aitken Avenue, Queenscliff, blends the soft colour of native flora with the peaceful tranquillity of Manly Lagoon. (We're in training for a career in a real estate agency.)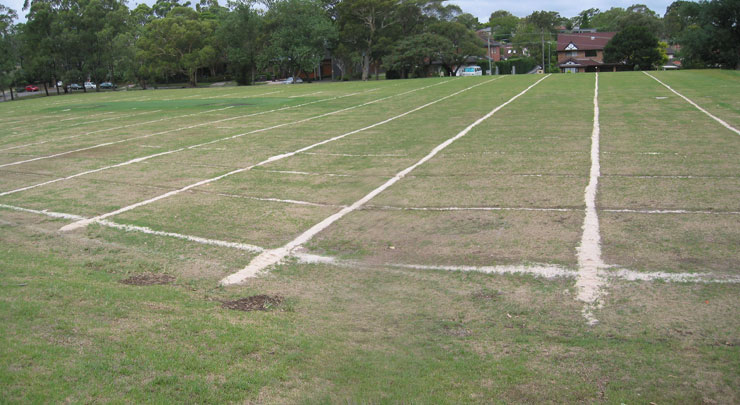 Why are all these lines on Field 6 at St Ignatius College, Riverview?
Riverview
Oh, of course. I should have known. They're to keep the birds in their correct lane as they race neck-and-neck to the finish line.
Riverview
The spelling error that defies the delete button. It's set in concrete in Pengilly Street, Riverview.
Riverview
The Hodgson Park bush track at its natural best … and in global warming.
Riverview
Riverview's underground tree. It's at the part of busy River Road that's had steps added to it to ease the grade.
(Also see next photo)
Riverview
The secret part of busy (bushy?) River Road. Discover it below Kallaroo Road, Riverview, and beside the closed Tambourine Bay pool.
(Also see previous photo)
Riverview
| | | |
| --- | --- | --- |
| | | .If you'd like a bush track with a river view, Riverview can help. From the bottom of Tambourine Bay Road, go straight ahead for views of the Lane Cove River through to the city and see your first historic well as a bonus. Or walk the opposite direction around Tambourine Bay for mangroves and a creek crossing by a natural rock bridge. |
<Prev> 1 2 3 4 5 6 7 8 9 10 11 12 13 14 15 16 <Next>